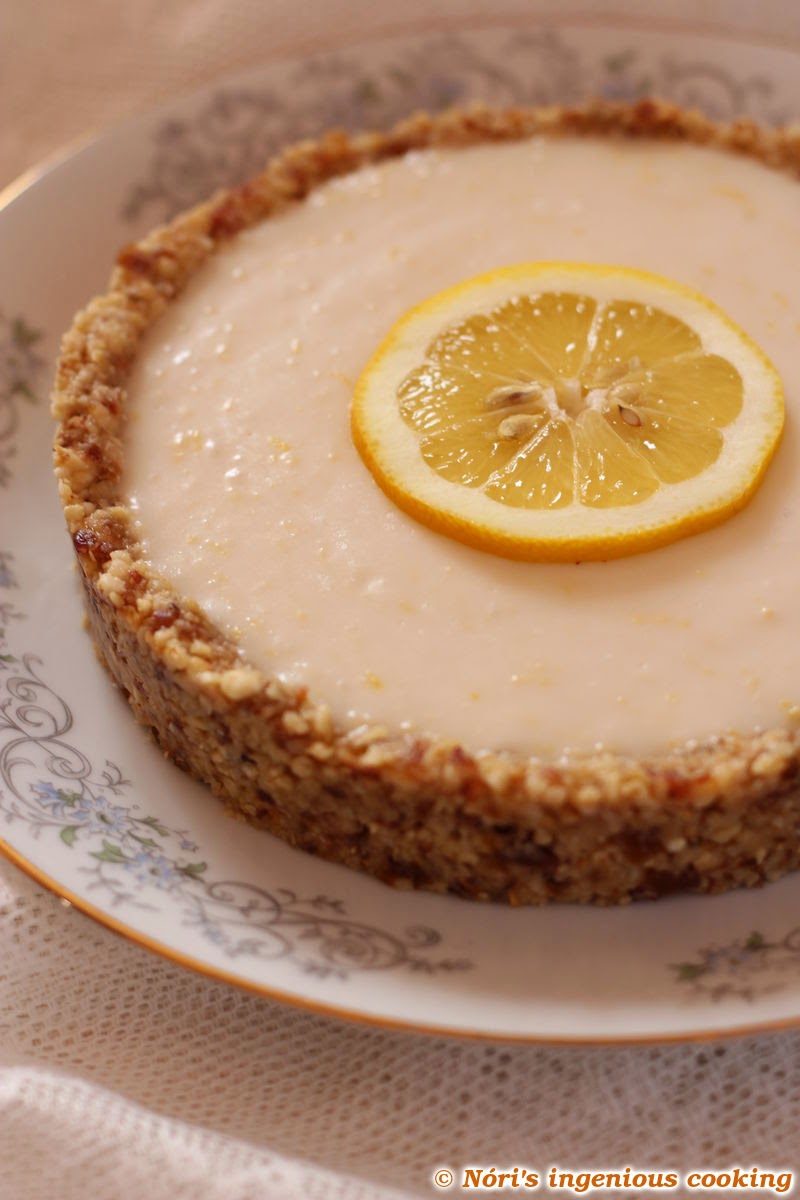 Looking for a summer recipe you can bring for family barbecue or picnic and don't know what to bring? How about this wonderfully refreshing lemon pie?
Just look at it? Doesn't it look inviting?
This recipe is a contribution of Nóri from Ingenious Cooking.
"​Nóri is a creative foodie, ex-PCOS patient, mom of a little baby girl, scientist, coffee lover to name a few things that come to mind. She's been blogging about eating sugar-, gluten- and dairy-free on a moderate carb (160g CH/day) diet for some time now, with recipes that are mostly egg-free and vegan, too.​ Sugar-free means no sugar, not even unrefined ones and gluten-free means oat-free in ​her book. ​"

No bake light lemon pie (sugar-free, vegan, GF)
Servings: 8
Ingredients
juice and zest of 1 organic lemon the one I used weighed 200g
for the crust
150 g / 1 cup of cashews
100 g / 0.5 cup dried pitted dates
2 tablespoons of xylitol
for the lemon curd
2 tablespoons of coconut oil 30g
300 ml / 1.25 cup plant milk I chose brown rice milk
0.25 teaspoon stevia powder
20 g / 1 tablespoon tapioca starch
0.5 tablespoon lime juice
1 teaspoon agar-agar powder
Instructions
For the crust, roast cashews in a sandwich grill or a dry pan.

Put dates and cashews in a food processor, mix until smooth.

Boil xylitol with 4 tablespoons of lemon juice, add to cashew-date mixture: pulse again and press this sticky paste into cake pan.

Mix tapioca starch and agar-agar powder with approx. 100 ml milk, set aside. Mix remaining ingredients of curd in a sauce pan: coconut oil, remaining milk, stevia powder, lemon zest and juice, lime juice. Boil curd while continuously whisking and add starchy mixture: once it starts to thicken, take off heat and whisk a couple of times.

Once the filling has cooled, pour it into the crust and put in refrigerator for at least 4 hours for the curd to set.
Notes
I liked about this filling that once it set it was sliceable, and still very soft and creamy. While making the filling, I recommend a taste check: I used to drink up lemon juice just like water when I was a kid, so this might be a bit too sour for some folks.
​Don't forget to 
join our community
 for more healthy
recipes
. If you tried this no bake lemon pie– tell us how you liked it in the comments below!
Dedicated to your health and well-being
Zuzana & Nikki