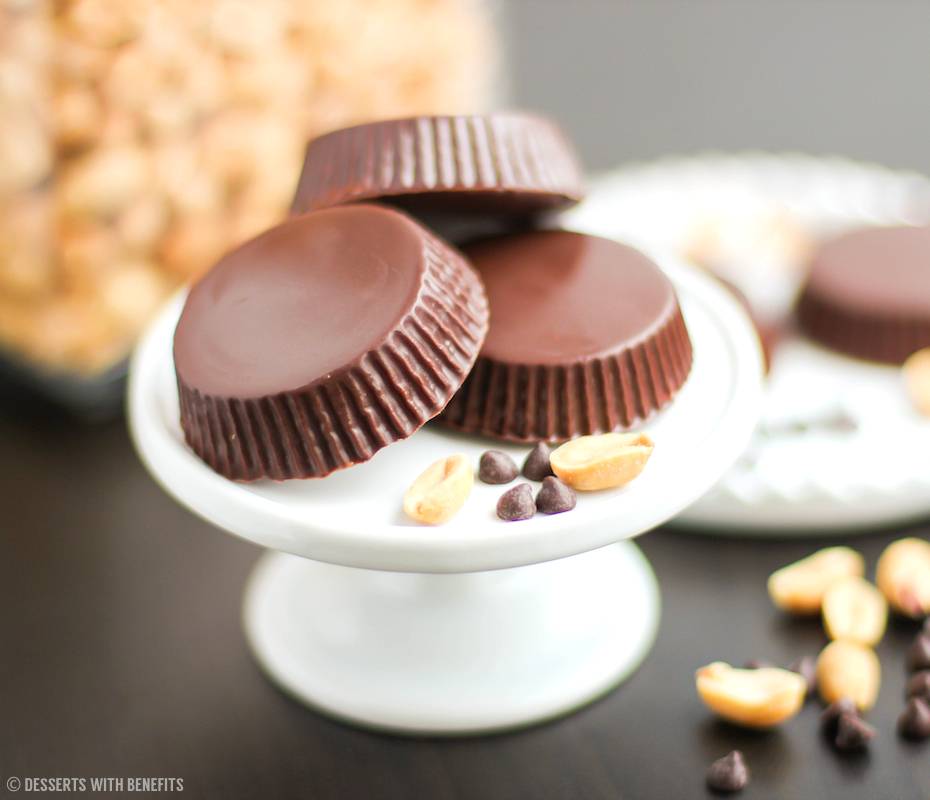 Do you love Reese's Peanut Butter Cups?
I can't imagine anyone saying "no."
We've got a real treat for all of you Chocolate and Peanut Butter Lovers out there.
A delicious DIY Peanut Butter Candy that gives Reese's® Peanut Butter Cups a real run for the money.
This delightful and easy treat is a contribution of the talented fellow Canadian girl Jessica, the face behind Desserts with Benefits.
Jessica says that she absolutely
adores
baking, all things chocolate, and making healthy desserts that you can feel good about eating! She is a senior-year university student majoring in Nutritional Sciences and Dietetics. Check out her blog over at
Desserts with Benefits
— a healthy dessert recipe blog.
Social Media Networks:
Healthy Valentine Peanut Butter Cups (sugar free, low carb, gluten free)
Healthy Homemade Peanut Butter Cups! Totally nutritious, sugar-free, low-carb, gluten-free and guilt-free.
Ingredients
Chocolate Coating
3 oz Sugar Free Milk Chocolate I used Lily's
Peanut Butter Filling
30 g 1/4 cup Peanut Flour
25 g 1/4 cup Powdered Erythritol
1/16 tsp Salt
57 g 1/4 cup Plain, Nonfat Greek Yogurt (for vegan option substitude with coconut yougurt)
Instructions
Melt the chocolate in a double boiler.

Spoon about 1 teaspoon of the melted chocolate into 7 cavities of a peanut butter cup mold or silicone muffin liners.

Rotate the tray or muffin liners to coat the cavity "walls" of the tray/liners with chocolate. Put this is in the refrigerator while you make the filling.

In a medium-sized bowl, whisk together the peanut flour, erythritol and salt. Stir in the yogurt. Mixture should be thick and fudgy like cookie dough.

Fill the chocolate cups with the peanut butter filling. Spoon the rest of the melted chocolate over the PB filling and tap on the tray/liners until the chocolate reaches the edges.

Refrigerate until firm.
Notes
This recipe is: no bake, sugar free, low carb, low fat, high fiber, high protein, gluten free!
Here is a little nutrition label comparison between the original Reese's® cups and my Healthy Homemade Peanut Butter Cups. The Reese's® nutrition label is on the left, the Desserts with Benefits nutrition label is on the right:
Wow, BIG difference, huh? Per serving, my recipe has:
80 less calories
3g less fat
15g less carbs
7g more fiber
4g more protein
Plus, my DIY recipe contains no added sugar or preservatives (unlike the storebought kind, which uses PGPR and TBHQ).
Enjoy and Happy Valentine's Day ♥