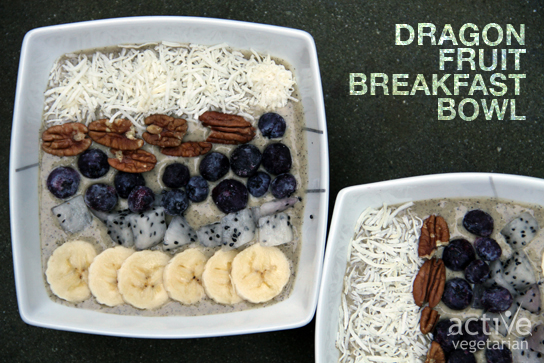 Dragon fruit also known as pitaya, these fun-looking fruits contain around 60 calories each and are rich in vitamin C, B1, B2 and B3, and minerals such as iron, calcium, and phosphorus. And that's not all. This is definitely one of the best "super fruits" out there.
Dragon Fruit Breakfast Bowl
Servings: 2
Ingredients
2 Dragon Fruits - scooped out of skin
2 Bananas - frozen
1 Cup Pineapple frozen or fresh
2 Scoops of Hemp protein
TOPPINGS
Blueberries or fruit of choice
Bananas or fruit of choice
Coconut flakes
Pecans or nuts of your choice
Instructions
In a blender combine dragon fruit, bananas, pineapple, hemp protein (if using) and blend until smooth.

Top with coconut flakes, nuts, blueberries (or any fruit of your choice) and enjoy. I love the crunch of the toppings!
Notes
vegan, vegetarian, gluten free