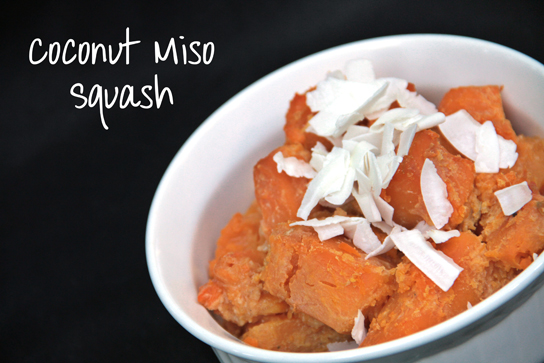 Another tasty squash creation……
Perfect as a side dish on a chilly fall evening. The coconut and miso sauce is a perfect combination for sweet butternut squash.
This is what you need:
1 lb. butternut squash, peeled and cut into bite-size chunks (2 cups)
1 cup low-sodium vegetable broth
½ cup light coconut milk
¼ cup white miso
1 Tbs. minced fresh ginger
2 cloves garlic, minced (1 Tbs.)
Place squash in large, deep skillet.
Whisk together broth, coconut milk, miso, ginger, and garlic in bowl.
Pour over squash, and bring to a boil.
Reduce heat to medium-low, cover, and braise 10 to 15 minutes, or until squash has softened and liquid has become thick and creamy, stirring occasionally.
Enjoy!
Nikki