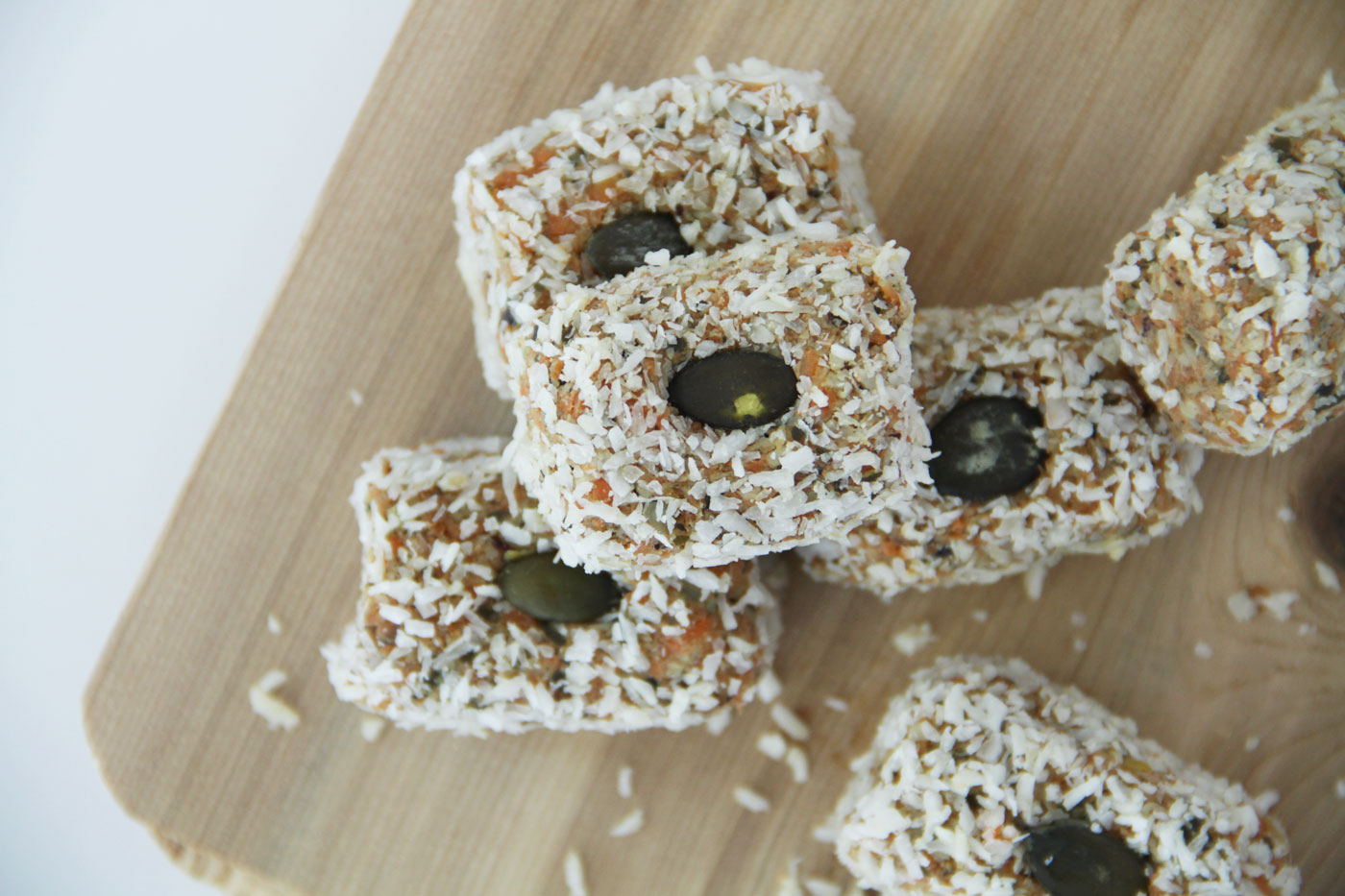 Don't throw away carrot juice pulp, there is still hope for it! Plus, you would be loosing on the there fiber and other goodness in there!!! Add some pumpkin seeds, coconut, dry fruit, spices and make some tasty Carrot Cake Rolls!!
In our kitchen we strive to have zero waste. Even when it comes to leftovers from juicing or nut milk making we constantly play around and look for new ways to turn these bi-products into tasty creations. This recipe is of course gluten free, raw and vegan and it has no starches. So let's get rolling 😉
Carrot Juice Pulp Cake Rolls
Vegan - Gluten Free- Raw
Servings: 15 rolls
Ingredients
2 cups carrot pulp leftover from juicing, can also use grated carrot, juice squeezed
1 cup  pumpkin seeds
1 cup  shredded coconut
5  figs soaked for 10 min (water discarded)
1/2 cup raisins soaked for 10 min (water discarded)
1 tbsp fresh ginger  grated
1 tsp cinnamon
¼ tsp  cardamon
pinch of Celtic sea salt
Extras:
1/4 cup shredded coconut for rolling
3 tbs pumpkin seeds for topping
Instructions
Place all the dry ingredients - pumpkin seeds, coconut, cinnamon, cardamon and sea salt into a food processor and mix for about 30 sec. Place the dry mixture into a large bowl.

Now process the wet ingredients - carrot pulp, figs, raisins and ginger for about 60 seconds.

Pop the food processor lid open and add in the dry ingredients again. Close it up and blend all together until well combine - about 45-60 seconds.

Grab a small amount of the mixture and squeeze slightly, then roll between the palms of your hands to form a little roll.

Roll in coconut shavings and top with pumpkin seed if desired.

Store in the refrigerator to keep them fresh for unto 5 days.
Do you reuse your juice pulp? What do you make with it? Please share a recipe or link in the comments bellow.
With Love & Gratitude,