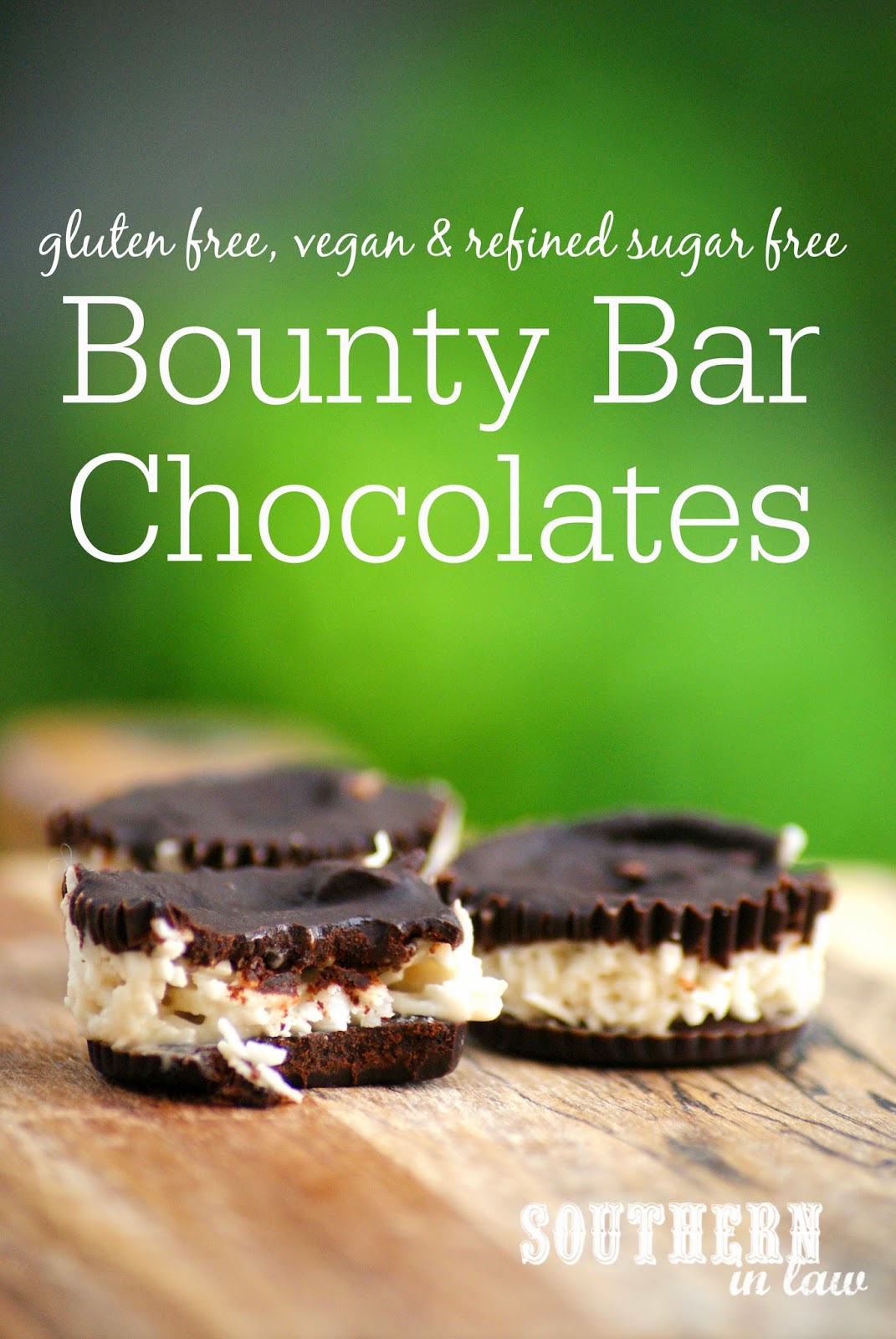 With an irresistible combination of coconut and chocolate it's no wonder that bounty bars have been a classic candy bar for decades. Wouldn't it be nice to enjoy a version free of refined sugars, oils and additives? Well guess whay??? Now you can with this easy raw, vegan and healthy recipe by Kristy of Southern In-Law.
"Southern In-Law covers everything in our lives – from our passion for healthy living to our journey of life, love, our wedding, allergy friendly recipes, travel, a sprinkle of fashion and beauty and so much more – join us for the ride!"
Connect with Kristi & Jesse:
Instagram: HERE
Facebook: https://www.facebook.com/southerninlaw
Pinterest: https://www.pinterest.com/southerninlaw/
Bounty Bar Chocolate Cups (Vegan,Healthy & Refined Sugar Free)
This dessert for one is healthy, raw made from simple whole ingredients, and tastes absolutely decadent – all things that get the Active Vegetarian tick of approval!
Ingredients
For the Chocolate Shell
6 tbsp 80g coconut oil
1 1/2 tbsp maple syrup
2 tsp vanilla extract
1/2 cup 40g unsweetened cocoa powder*
Pinch of salt
For the Coconut Filling
1/2 cup 40g shredded/desiccated coconut
3-4 tbsp coconut milk
1 tsp vanilla extract
Instructions
For this recipe, I find it easier to use either a silicone mini muffin tin or a mini muffin tin lined with paper liners (this is, in our minds, the best way as it doesn't matter if your chocolate coats every edge!) so prepare your tins and set them aside

In a heatproof bowl, melt your coconut oil and mix with your other ingredients.

Divide half of your chocolate shell mixture amongst your prepared tins and place in the freezer to set for 10-20 minutes.

Once your chocolate base has set, mix together your coconut filling and spoon it into your tins.

Pour your remaining chocolate shell mixture on top of your coconut filling and chill in the fridge until set (or freeze if you want them to set faster!).

Once set, you're free to enjoy! You'll want to keep your Bounty Cups in the fridge or freezer as they'll start to melt once they get warmer!