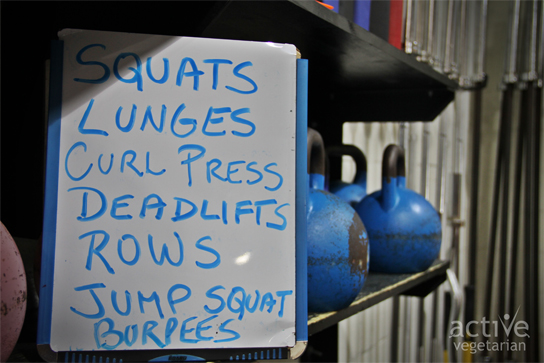 Hey hey! We are back with a new workout for you! Please read the post below before you do this workout 🙂
This one is a little different than usual, we are including weights and it is based on complex training. Complex training is  a great way to add some variety to your workouts, you can always change the exercises, structure of the reps (pyramid/reverse pyramid), or instead lift for time.
Complex workouts will have you burning tons of calories during the workout, give you a great "afterburn" effect (which increases metabolism), improve endurance, lean muscle and make you feel energized!  Wait it gets better, you can get in and out of the gym in less than 30-45 minutes knowing you had a full body workout and probably sweat more than that girl texting on the elliptical for the past hour. 😛
Remember: you want to always keep the intensity high, and limit rests between exercises. Complexes are meant to be a cardio-based workout.
Alright so are you ready?
Choose a set of dumbells (that you can lift overhead) *note you will not be setting the dumbells down so choose wisely 😉
There are 7 exercises and you will complete 5 rounds – Your first round will consist of 10 reps for each exercise and you will minus 1 rep for each round so it will look like this:
Round 1 – 10 reps
Round 2 – 9 reps
Round 3 – 8 reps
Round 4 – 7 reps
Round 5 – 6 reps
Each round will consist of the following 7 exercises:
If you want to make it even more fun…. time yourself! and let us know how you did.
Stay fit and stay healthy!
Nikki & Zuzana