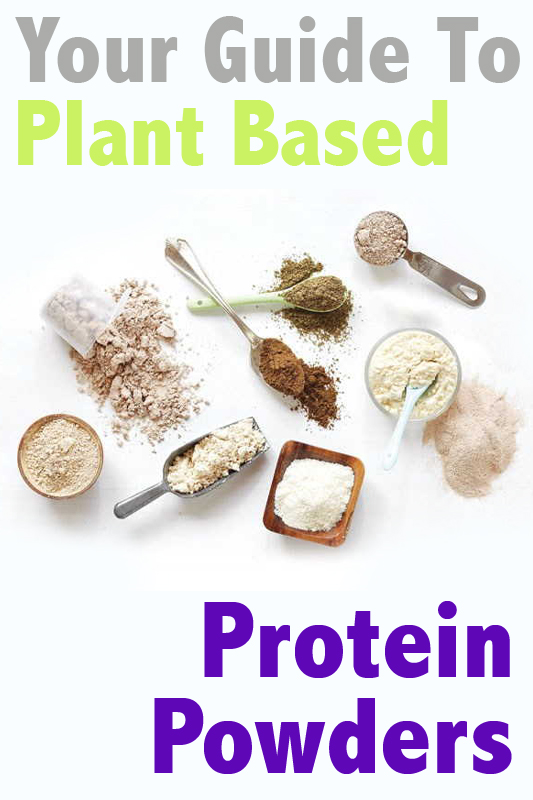 "What is the best kind of protein powder to use?"
This is a very common questions we get from our readers and clients.
Before I get into this post let me mention that both Nikki and myself are firm believers in striving to get most of our nutrients from real, wholesale sources and keep supplements to a minimum. However let's face it. Most of us live a pretty busy lifestyle and convenience plays an important role when it comes to food. For that reason protein supplements can make it easier to get those essential nutrients on-the-go. Adding vegan protein powder to smoothies, oatmeal or homemade energy bars is a quick way to create a complete meal.
Not all protein supplements are created equal!
On a quest of choosing the right product, it's easy to be confused by the tons of different powders on store shelves. One of the best things you can do is to read on the supplement information and data.
Tips on How to Choose Plant-Based Protein Powders
If you have been with us long enough you know that we prefer plant-based protein powders over whey based ones. I am not going to go into our personal reasons however generally they are easier on digestion and are hypoallergenic, meaning they are very unlikely to cause food sensitivities or allergies. Another benefit to using plant-based proteins is they are typically made using far more natural ingredients than whey protein powders and do not contain artificial sweeteners like aspartame or sucralose.
Keep in mind that when it comes to buying protein, as many other things in life, "You get what you pay for." Low-cost proteins often use inexpensive protein blends that may not be very digestible by the body. It is also worth noting that the amount of protein required by the body depends on a person's activity level, physical size, and gender. Testing various sources and quantities of protein can help determine a mix that works best.
Another point to keep in mind is to look for a product that is dairy and soy-free, as well as gluten-free. Be sure that it does not contain artificial sweeteners, soy isolates or other unnecessary fillers, all of which can raise the risk of various health problems.
And, ideally, it should derive its protein from one or more of the following sources:
Hemp
Pea
Brown rice
Flax seed
Chlorella
Amaranth
Quinoa
Buckwheat
Sunflower seed
Pumpkin seed
Chia seed
Lentil sprouts
As I mentioned before, when it comes to the amount of protein to use each day, the answer depends on several factors: activity level, age, sex, muscle mass and health status—just to name a few.
Protein Powders We Love
There are several great plant-based protein powders on the market today. Nikki and myself are sharing 5 of our favorite.
They made the cut for several reasons:
It can be easily mixed in water
Tastes good
Has a very balanced blend of vegetable proteins
Can be found in most health food stores or on iHerb
Affordable
Vega
ALL Vega products are of exceptional quality.
1.Vega Sport
(chocolate, berry, mocha and vanilla) Cost: $42-$69
I love the Performance Protein as it has all of the convenience of protein powder, while maintaining a strong commitment to a company ideology that is rooted in a whole food plant based diet. Vega Sport includes Pea protein, SaviSeed protein, Sprouted Whole Grain Brown Rice protein, Alfalfa protein, as well as 5 grams of BCAAs and 5 grams of Glutamine making it a dream come true for any plant based athletes. Another bonus of this product is the low sugar – only 2.7g per scoop (36 grams). Each scoop contains 25 grams of protein. It mixes easily in water and it's heavenly in a protein banana ice-cream! YUM 😉
2.Vega One – All-in-One Nutritional Shake
(french vanilla, chocolate, vanilla chai, mixed berry and natural) Cost: $39-$69
This is not just a protein,Vega One is a great meal replacement. It contains 15g of protein (no soy, no dairy, no gluten, no whey) 6g of fiber 3.5g of omega 3, 3 servings of veggies, 1 billion probiotics and 2.7 cups of antioxidants (basically it means stuff with antioxidants ie. 2.7 cups worth of blueberries). Plus about one fifth of a GOOD blend of vitamins and minerals. Tastes great, mixes well and digests easily. It gives you a wonderful "Clean" feeling after drinking. I always feel like my body is saying "thank you "
Sun Warrior
3.Sun Warrior Classic Blend
(chocolate, vanilla, natural) Cost: $29-$49
All of Sun Warrior's protein powders are raw, vegan, gluten-free, organic, non GMO, soy-free, MSG-free and truly have only the best ingredients. No artificial ANYTHING is found in these protein powders. That's what I mean when I talk about quality.
My go to is the Vanilla flavor. There are many reasons we love this product- short ingredient list with only 5 ingredients: raw sprouted whole grain brown rice protein, vanilla, pectin, xanthan, stevia. Great nutrition facts – 1 scoop = Calories: 70, Fat: 1g, Carbs: 4.2g, Protein: 16g, Sugar: 0 It's raw, vegan, gluten-free, GMO Free, 85% pure protein powder. Easy to digest, doesn't contain soy and works great in recipes. A couple notes: I really like the Chocolate Sun Warrior as well, but usually I just buy the vanilla and then add cocoa powder to recipes that I want to be chocolate flavored. Sun Warrior also has a new Warrior Blend that's made of several different sources of raw protein including pea protein, cranberry protein and hemp protein.The nutrition facts for the Warrior blend are similar to their brown rice protein powder – 1 scoop has 84 calories, 16 grams of protein and 1 grams of sugar.
Amazing Grass
4.Amazing Meal Supplement Powder
(original, cafe mocha, pomegranate mango, chocolate infusion, vanilla chai) Cost: $22-$42
I have been a fan of Amazing Meal for many years now. I believe it was one of the first protein blends that I thought didn't taste like dirt 😉
So what is "Amazing Meal" ? It's is a blend of Green SuperFoods (including detoxifying wheatgrass, kale, alfalfa and barley grass), plant based protein (from hemp and hypoallergenic rice protein), phytonutrient rich fruits (including the "Super Fruits" acai and goji berries) & vegetables, essential fats, digestive enzymes and probiotics. It's basically concentrated whole foods nutrition delivered just the way Mother Nature intended…organic and raw. "Amazing Meal" contains nothing artificial, nothing refined and no isolated vitamins or synthetic substances of any sort. Just pure whole foods nutrition.
One serving contains 130 calories plus 4 grams of fiber and 12 grams of "ultra-clean" vegan protein. It's super satisfying and will help curb your appetite and keep your energy high for hours. Each serving also provides more than the daily recommended dose of vitamins and nutrients. If you have a little extra time, I suggest mixing one scoop of AM together with frozen mango and almond milk in a blender. This cocktail creates a beautiful quick breakfast.
How to incorporate into your diet
I hope this post has cleared-up your questions about protein powders..There are plenty of ways to add these great sources of protein to your diet, including smoothies, to almond or hemp milk, protein balls or bars, PB cups, ice-cream and more.
You can find all products for great prices online on iHerb.com . Use coupon code YUY334 for up to $10.00 off your first order.
Disclaimer: We were not sponsored by any of the above mentioned companies to write a review. This post may contain affiliate links, which basically means we earn a small percentage of sales from these products if you purchase them (a.k.a. you're supporting our efforts here on Active Vegetarian)- thank you!
Have a favorite product ? Please share it with us and other readers in the comments bellow 😉
Dedicated to your well-being
Zuzana & Nikki