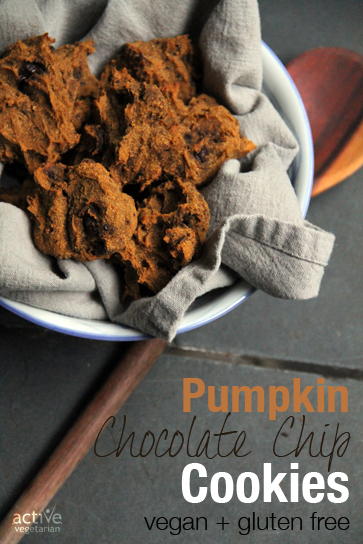 One afternoon while doing some work on the site a certain someone (ahem… Zuzana) kindly requested some cookies and the only ingredient she recommended was organic pumpkin puree so heres what I came up with! They are super quick, easy and tasted great of course!
Interesting how I am always praised for how good of a baker I am… Very cleaver Zuz! 😛
With Love & Gratitude,
Nik
Pumpkin Chocolate Chip Cookies - Vegan + Gluten Free
Completely vegan and gluten free, quick and easy cookies that taste delicious!
Ingredients
1 can 15oz organic pumpkin puree (not pie mix)
1 cup gluten free flour
1/2 cup coconut flour
1/4 cup coconut palm sugar
3 tbsp molasses
1 tbsp fresh ground ginger
1 tbsp organic coconut oil
1 tsp cinnamon
1 tsp baking soda
Chopped dark chocolate
Instructions
Preheat oven to 350*F.

Mix all ingredients together in a large mixing bowl.

Line a cookie sheet with parchment paper and lightly grease with coconut oil.

Drop cookies by spoonful (I used about tbsp for each).

Bake for 20 mins or until golden brown - I find sometimes pumpkin takes a little longer depending on your oven.

Now enjoy!! 🙂