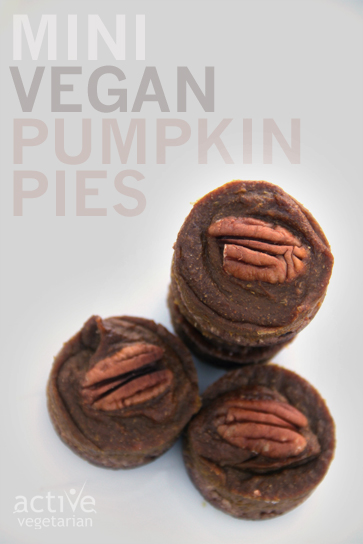 A delicious and creamy with no added sugar pie filling, vanilla infused and spiced is filled in a gluten-free coconut crust that gives these pies a buttery and nutty flavor, creating the perfect match! Enjoy as a beautiful fall treat or any day you like a special dessert.
Did you also know that pumpkin and winter squash are nutritional powerhouses?
5 Fast Facts Pumpkin:
high in beta-carotene
full of iron, zinc and vitamin C
rich in anti-oxidants
246% RDA of vitamin C
good source of B complex vitamins
3 Helpful Tips:
Tip #1: You can substitute the nuts you use in the crust. We've used both pecans and coconut and both were good.
Tip #2: You can substitute the sweetener you use in the filling – just use your favorite liquid sweeter, date paste or natural, raw sugar.
Tip #3: This recipe makes 24 mini-pies. Of course, you could also try out this recipe in a standard pie form, if that's what you're going for!
So let's get to the pumpkin action!
Mini Vegan Pumpkin Pies, GF
Ingredients
For the crust
2 cups shredded coconut
1/2 cup pecan roasted
1 tsp allspice
1 tsp cinnamon
For the pumpkin filling
2 cans of organic pumpkin puree not pumpkin pie filling
10 medool dates
¼ cup maple syrup
zest of 1 lemon
1 TBSP chia seeds
2 tsp. cinnamon
2 tsp. pumpkin pie spice
3 TBSP arrowroot or cornstarch
2 tsp vanilla extract
Instructions
Start by preheating the oven to 350° F.

Roast the pecans for approximately 10 minutes, until fragrant and lightly browned and crackled.

Put the crust ingredients(except pecans in a food processor or heavy-duty blender and blend until dough starts to form.

Now process the pecans, but be careful not to blend too long or you will release the oil from the nuts.

Put both the dough and ground pecans in a bowl and mix well.

keep mixing until a sticky dough forms (you could also try mixing with your hands).

If the dough doesn't hold together when pressed between two fingers, add a couple of tablespoons of water until it is wet enough to hold.

Put a small ball of dough into each greased mini muffin form and press down and up the sides as firmly as you can.

Remember that if your dough looks crumbly, it will probably crumble when baked as well so be careful to really press it together!

To prepare the filling...

Put all ingredients for the filling into a Vitamix and blend well until smooth and creamy.

Fill each mini-muffin holder to the top with the filling mixture.

Bake for 20-30 minutes, until browned at the top and crispy on the outsides of the pie crust.

Let cool completely before serving.
Don't forget to join our community for more healthy recipes . If you tried this delicious pumpkin treat – tell us how you liked it in the comments below!