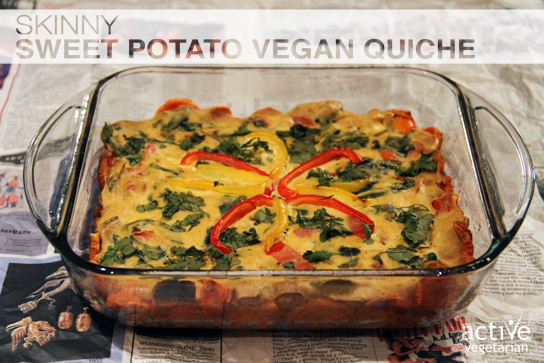 This Quiche is one of my favorite go-to breakfast/dinners when it is time to mix things up at the house! It is just over-the-top delicious, easy to make, tasty and healthy.
Instead of using normal pastry for a crust, I used sweet potatoes which tastes divine, is way healthier and makes this dish gluten-free if you use tamari instead of soy sauce.
Skinny Sweet Potato Vegan Quiche
Servings: 4
Ingredients
6 small sweet potatoes
1 yellow pepper chopped
1/2 an onion chopped
4 spring onions/scallions chopped with the white and green parts separate
4 cloves garlic crushed and chopped
3 mushrooms chopped
2 cups chopped kale
2 cups baby spinach
A large handful fresh basil leaves
1 package firm tofu
2 teaspoons Dijon mustard
½ teaspoons turmeric
2 tablespoons soy sauce or tamari if gluten-free
3 tablespoons nutritional yeast
2/3 cup soy or almond milk
2 teaspoons arrowroot
2 tablespoon coconut or olive oil
Instructions
Peel sweet potatoes and slice thinly with a food processor or knife.

Lay potato slices out in pie dish in a crust-like fashion, coated with tablespoon coconut oil, and bake on 400 degrees fahrenheit for 15 minutes. (After crust has baked, reduce oven to 375 degrees fahrenheit.)

Now heat the rest of oil in a frying pan and cook the onion, white part of the scallions and the garlic until they are soft.

Add in the pepper and mushrooms and saute for about 10 minutes.

After this, add in the spinach, kale, basil and green parts of the scallions. You may have to do this a little at a time as they will have to wilt down a bit to fit in the pan.

As they wilt, turn the heat down to its lowest setting and start with the tofu mixture.

For this you will add to a food processor or blender the tofu, mustard, turmeric, soy sauce, nutritional yeast, milk, arrowroot and oil. Blend until you have a smooth consistency.

Pout the tofu mixture into the greens and stir until everything is combined.

Now pour this into the sweet potatoe crust and bake in the pre-heated oven for 40 -50 minutes, depending on how deep or shallow your dish is.

Just check it after 35 minutes to make sure it's not too brown.

Tastes best a little warm
Notes
Enjoy with a salad for breakfast, lunch or dinner! If you want to eat it hot, just pop it back in the oven to re-heat.