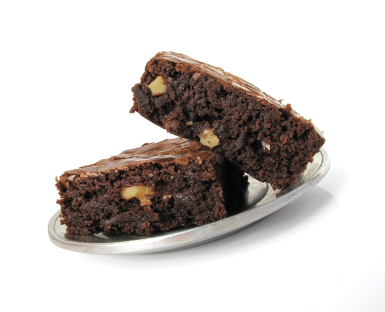 Everybody likes brownies right?
What if I told you that I have a recipe for delicious brownies and you don't even have to feel guilty about indulging?
Actually you can give yourself a pat on the back for having this treat!
That's because these Healthy Brownies have a hidden vegetable inside.
Yes it's true. This recipe calls for spinach…and I promise you won't taste it at all.
In addition to the Vitamin A and iron from the spinach, these Healthy Brownies have antioxidant-rich blueberries and a nice serving of fiber from whole- wheat flour.
Ingredients
1/2 cup vegetable oil (I use "Earth Balance" vegan spread)
1/2 cup agave nectar or brown sugar
2 eggs  (for vegan version substitute 1/2 mashed banana per 1egg)
1 teaspoon vanilla extract
1/3 cup unsweetened cocoa powder
1/2 cup purple pure (recipe below)
1/2 cup whole wheat  flour
1/4 teaspoon salt
1/4 teaspoon baking powder
1/2 chopped pecans (optional)
Purple Puree
3 cups raw baby spinach or 2 cups frozen chopped spinach or frozen chopped collard greens
1-1/2 cups fresh or frozen unsweetened blueberries
1 tsp. lemon juice
3-4 Tbsp. water
If using raw spinach, wash and dry it thoroughly (even if it's triple-washed, bagged spinach). Bring the spinach and water to a boil in a medium saucepan. Turn the heat down to low and allow to simmer, 10 minutes.
Rinse and drain blueberries. Place blueberries, cooked spinach, lemon juice and 2 Tbsp. of water in blender. Blend on high until smooth. Makes one cup. (you can freeze it for next time)
Directions
Preheat oven to 350 degrees F (175 degrees C). Grease and flour an 8 inch square pan.
In a large  bowl  stir oil, add sugar, eggs or massed banana, and 1 teaspoon vanilla. Beat in 1/3 cup cocoa, 1cup purple pure, 1/2 cup flour, salt, baking powder and pecans. Spread batter into prepared pan.
Bake in preheated oven for 25 to 30 minutes. Do not overcook.
Let cool and ENJOY:-)