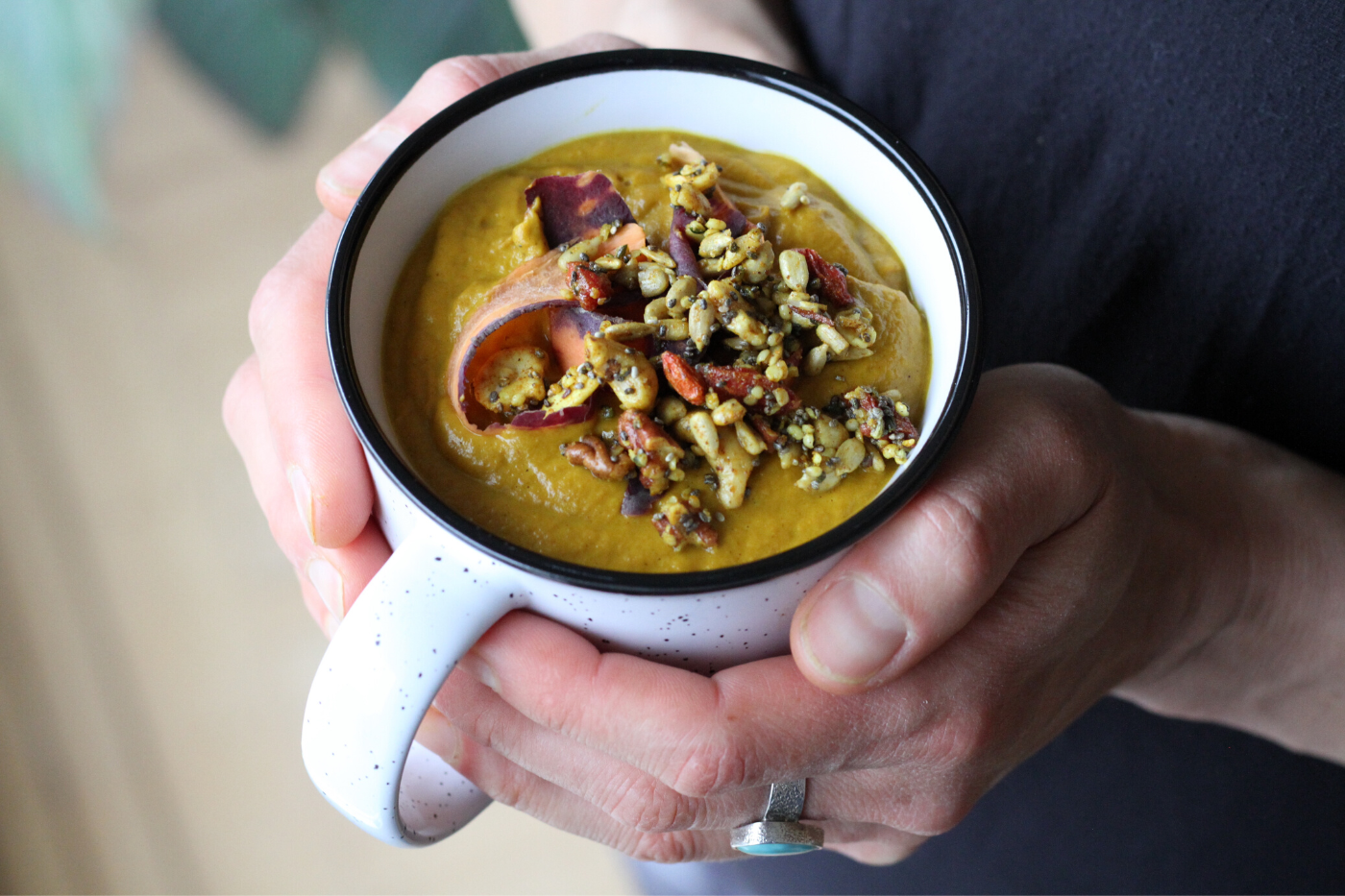 Supports Healthy Vision | Boosts Immunity | Prevents Heart Disease
I cannot think of a better way to kick off the fall/winter season than with this cozy Vegan Carrot Raisin Soup. It's sweet but also savoury. And it seems no matter what time of year, carrots are always around — bright, colourful, crunchy and fresh.
And of course, let's not forget how good carrots are for you. A single carrot contains beta-carotene, fibre, and potassium, and is loaded with antioxidants.
About This Soup
Carrots and raisins are very good friends. Together with ginger, cinnamon and lemon juice, they create a lovely combination of texture and flavour. This soup is smooth and creamy (with help of a powerful blender and soaked sunflower seeds). And, once you get everything chopped, this recipe comes together very quick.
Note about consistency & flavour
Often people wonder about the thickness of pureed soups. You'll notice I didn't list the liquid (water or broth) in the ingredients. I want to give you full control over creating a consistency you will enjoy. Start on the thick side and puree, adding a bit of liquid at a time. Personally, I like soups on a thicker side, as I find them more satisfying.
Also, in terms of ginger, if you like the flavour, you can either add more than the suggested amount or grate raw ginger on top of the hot soup to bring out the ginger flavour further. Try topping the soup with our Superfood Salad Topper and you have a perfectly satisfying and flavourful meal.
Creamy Carrot Raisin Soup
Servings: 4
Ingredients
10 large carrots washed and cut into chunks
1 cup raw hulled sunflower seeds (soaked for 5 hours)
1/2 cup raisins washed
1 tbsp coconut oil
1 tsp cinnamon
1 tsp turmeric
salt to taste
1 inch chunk fresh ginger peeled
1/2 lemon juice only
Instructions
In a large pot melt coconut oil.

Add chop carrots and saute for 5 min, make sure you stir it frequently to avoid burning.

Strain the sunflower seeds, wash them well and add them to the pot. Also add cinnamon and turmeric, let simmer for another 3-5 min. (add bit of water if too dry)

Cover with water, add raisins and salt and bring to a boil.

Cook until carrots and sunflower seeds are tender. Turn heat off and add ginger and lemon juice to the pot.

Next, transfer soup to a blender or food processor (do it in batches if your blender isn't big enough to handle all of this at once).

Blend until smooth and serve.
Notes
In terms of carrots, I buy local and organic and don't peel them. The skins are thin and filled with nutrients so no need to waste them. If you choose to keep the peel, just scrub well.
Dedicated to you health and well-being,