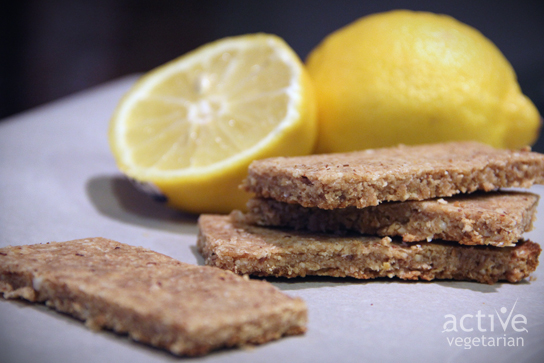 Holy grocery bills — store-bought energy bars sure aren't cheap! While healthy energy bar can be a convenient way to fuel up before or after a workout, some varieties contain a long list of artificial ingredients and added sugars, which can do more harm than good. Luckily, it's super easy to put together homemade bar that has all of the right ingredients and none of the junk, making them a great option on-the-go or in your gym bag.
For a tropical treat, try these scrumptious bars made with cashews and unsweetened coconut. The hint of lemon gives it truly refreshing touch.
Makes 8 bars
Ingredients:
2/3 cups unsweetened shredded coconut
2 cups raw cashews
1 cup medjool dates, pitted
zest of one organic lemon
juice of one organic lemon
1/4 teaspoon ground cinnamon
1/8 teaspoon sea salt
1 tablespoon coconut oil
Directions:
1) Preheat the oven to 350° F.
2) Spread the coconut evenly across a baking sheet and toast in the oven for 3 minutes. Stir well and then bake for another 2 minutes, or until golden and fragrant.
3) Set the toasted coconut aside and use the same baking sheet to toast the cashews for an additional 5 minutes, or until fragrant.
4) Add the coconut, cashews, dates, cinnamon, lemon zest, lemon juice and salt into a food processor.
5) Pulse the ingredients until they're crumb-sized (a few larger pieces are fine).
6) Add the coconut coconut oil to the food processor and continue pulsing until the mixture begins to clump. If it seems dry, add another 1/2 tablespoon of coconut oil.
7) Line an 8 x 8-inch pan with parchment paper, allowing two sides to hang over the side of the pan.
8) Press the mixture into the pan and flatten the mixture evenly.
9) Bake for 12-15 minutes, cool and then slice the bars into 8 pieces.
10) Wrap the bars and store in the refrigerator or freezer.