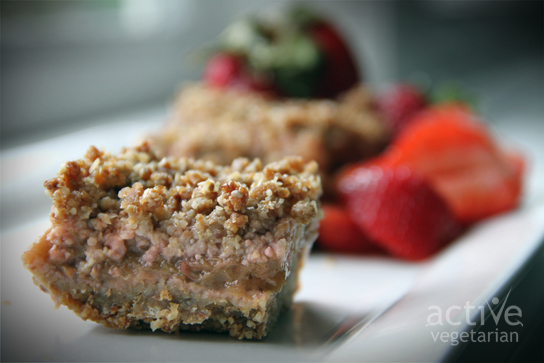 These easy-to-make bars consist of a crispy oatmeal crust, a thick layer of sweet and tangy fruit filling and a crumb topping. They are perfect with morning cup of coffee, or have one for an afternoon snack……and also for dessert (basically you can eat them anytime) 🙂 Enjoy
Crust:
1.5 cups whole raw almonds
1.5 cups regular oats (for Gluten-free, use GF oats)
1/2 tsp kosher salt
1 cup raisins, soaked for at least an hour
1/4 cup coconut oil
Filling
1 1/2 cups fresh or frozen unsweetened rhubarb, cut into 1-inch pieces
1 1/2 cups sliced fresh (or frozen) strawberries
1 tsp of cinnamon
1 tablespoon lemon juice
1/2 cup maple syrup
2 tablespoons ground flax seeds
Directions:
Heat oven to 350°F
Combine rhubarb, strawberries, cinnamon and lemon juice in saucepan. Cover; cook over medium heat, stirring occasionally, until fruit is tender (8 to 12 minutes).
Combine 1/2 cup maple syrup and ground flax in small bowl. Stir into fruit mixture. Continue cooking, stirring constantly, until mixture comes to a boil (about 1 minute). Continue cooking on low until thickened (1 minute). Remove from heat. Set aside.
In a food processor, process the almonds, salt, and oats until a fine crumble forms. Now add in the raisins and process until crumbly again. Melt the coconut oil and add to the mixture and process until sticky.Remove from processor, set aside 3/4 cup of the mixture for later, and press the rest of the mixture very firmly and evenly into a baking pan.
Scoop out the fruit mixture onto the crust and gently spread with the back of a wet spatula until even.
Sprinkle with reserved crumb mixture.
Bake for 30 to 35 minutes or until golden brown. Cool.
Refrigerate in the fridge until firm for at least 1 hour, preferably overnight. Cut into squares and serve. Store in the fridge or freezer.
Yum yum yum… 😛
Hope you enjoy these bars as much as we did!
Zuz & Nik