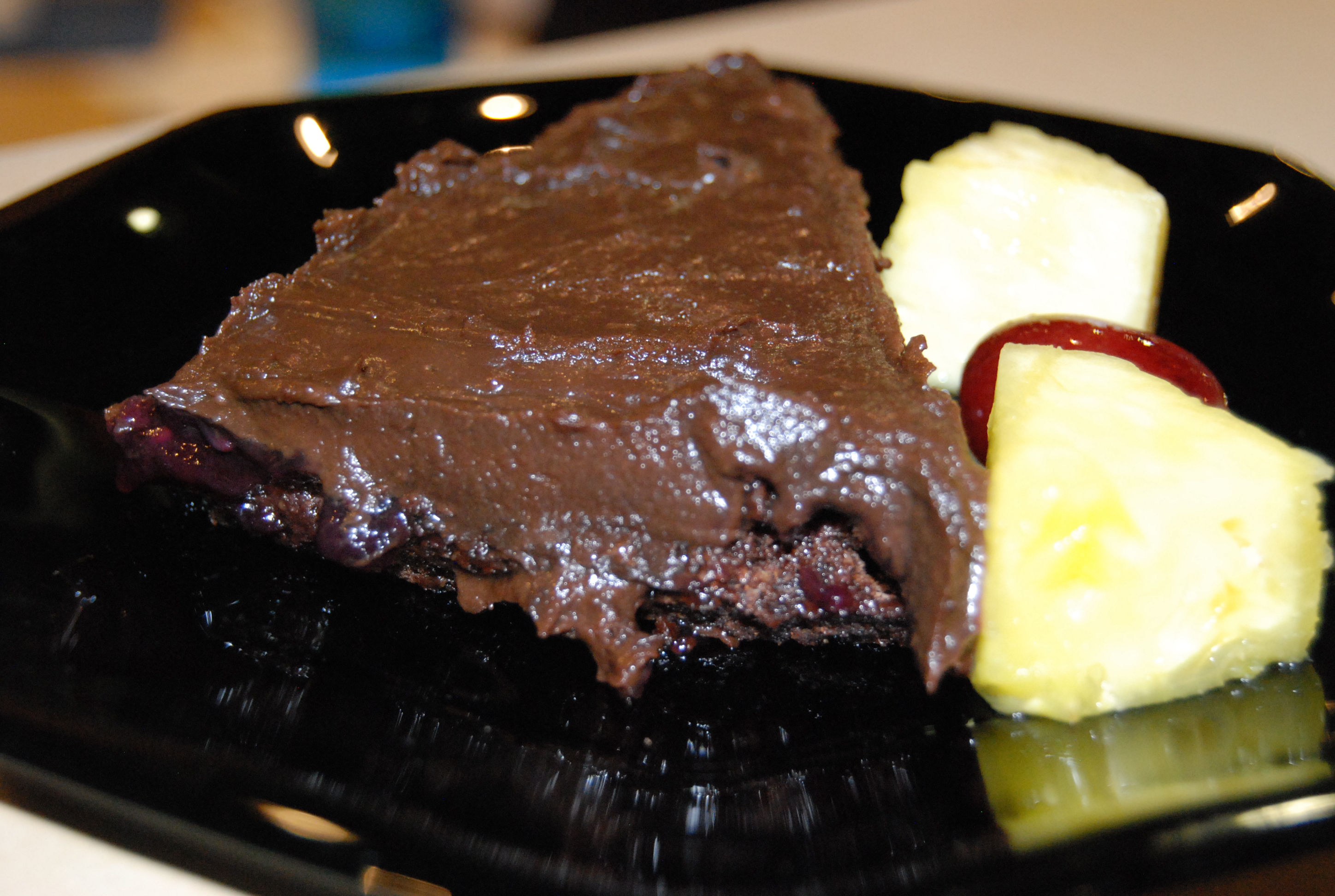 Hi all!
Christmas season is officially here people!
With this time of the year we get invited to tons of Christmas functions. Work parties, neighbor parties, family get-togethers, friend's Christmas brunches…..you get the point right?
Most of the time we are asked to bring a dish – so today I would like to share with you this croud pleaser – Vegan Chocolate Torte.
I adapted this recipe from Oh she glows. If you haven't already visited the site, it's a fun place to find recipes. All the recipes I've tried so far have been fantastic!
The frosting has a secret ingredient – it's made out of avocados. Honesly I am not a fan of frosting but this deliciously creamy mixture is out of this world. Really, who doesn't love healthy chocolate frosting?
So here we go…Enjoy!
Crust ingredients:
1 1/3 cup whole grain flour
1/4 cup cocoa powder
1/4 cup unsweetened coconut
1/2 tsp baking powder
3/4 cup raw sugar or Sucanat
1 tbsp arrowroot powder
1 tsp kosher salt
5 tbsp coconut oil
1/2 cup + 4 Tbsp almond milk
3 tbsp pure maple syrup
Filling:
2 cups avocado flesh (approx 4 medium avocados), pitted and scooped out
1/2 cup almond milk
2/3 cup pure maple syrup
1 tbsp smooth peanut butter (or almond butter)
1 tbsp arrowroot powder
1/4 tsp salt
1 tsp pure vanilla extract
1 cup dark chocolate chips, melted
1/4 cup cocoa powder, sifted
jam of your choice
Directions:
Preheat oven to 375F.
In a large bowl, sift together the dry crust ingredients (flour, cocoa powder, baking powder, coconut, arrowroot powder, sugar and salt).
In a medium bowl, whisk the wet crust ingredients (oil, maple syrup, milk).
Add wet to dry and stir well.
In a 10 inch springform cake pan, scoop on the crust batter and spread out with a wet spoon or wet hands.
The dough will be very sticky so you will have to keep wetting your spoon/hands. Spread out as evenly as possible and bake for 25 minutes at 375F.
Meanwhile, prepare the filling by placing all filling ingredients (except chocolate chips and jam) into food processor. Process until smooth.
Once the crust is done baking, remove from oven and cool off for about 5-10 mins.
Melt your chocolate chips in a small bowl and place melted chocolate into food processor mixture.
Process until smooth.
Spread the jam of your choice on top of the baked crust.
Scoop frosting into cake pan on top of crust with jam.
Carefully smooth out as much as possible and then place in the freezer for 1.5-2 hours to firm up.
Remove from freezer about 10-15 min before serving.
Enjoy!
Talk soon
Zuzana