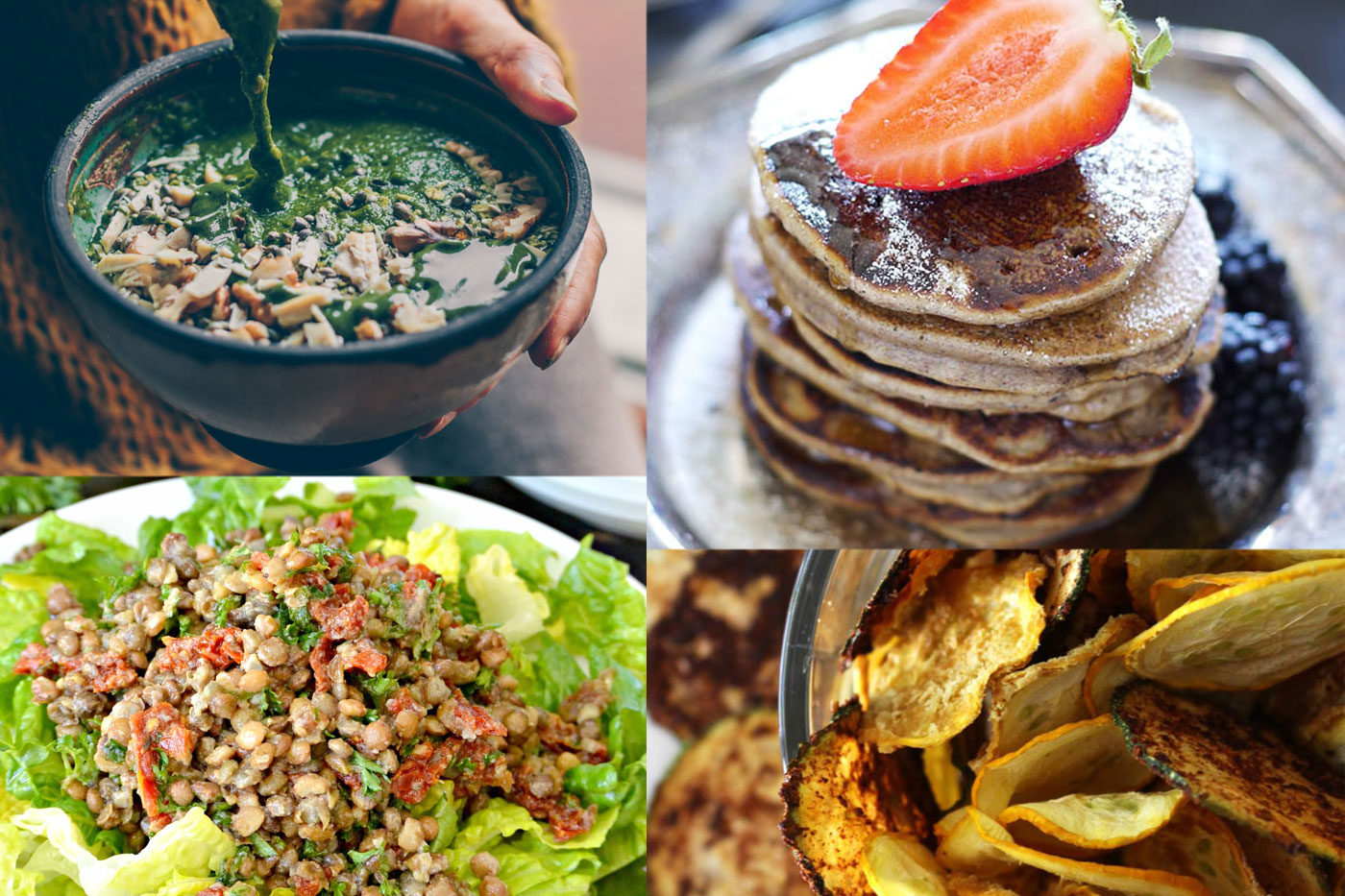 This recipe round up was inspired by one of Michael Pollan's food rules :
"Don't eat anything with more than five ingredients, or ingredients you can't pronounce."
Real food doesn't have a long ingredient list, isn't advertised on TV, and it doesn't contain stuff like maltodextrin or sodium tripolyphosphate. Real food is things that your great-grandmother (or someone's great-grandmother) would recognize. This is exactly what you will find in this 40 plant based recipe round up.
Delicious, healthy dishes that can be crafted from just five (or less) ingredients. Skeptical? Just check out this list and get cooking.
BREAKFAST/DRINKS
EASY 4 INGREDIENT BLENDER PANCAKES
THE BEST VEGAN BERRY BANANA MOUSSE
HEALTHY OATMEAL PANCAKES
GRANOLA SNACK WRAPS
WINTER DETOX GREEN SMOOTHIE
GREEN CHIA PUDDING
BASIC SWEET SAVORY CREPES
HOMEMADE NUT MILK
BLACKBERRY COCONUT SMOOTHIE
SLOW COOKER CRANBERRY APPLE CIDER
[optin-cat id=15612]
---
BARS & COOKIES
5 INGREDIENT VEGAN GLUTEN FREE COOKIES
5 INGREDIENT SUGAR FREE CINNAMON PROTEIN BARS
HEALTHY BANANA COOKIES
---
ICECREAM
BLACKBERRY NICE CREAM
MINT CHOCOLATE CHIP ICECREAM
4 INGREDIENT VEGAN CHOCOLATE ICECREAM
PUMPKIN PIE NICE CREAM
VEGAN SALTED CARAMEL ICECREAM
---
ENTREES
LENTIL SUNDRIED TOMATO SALAD
3 INGREDIENTS ASIAN CUCUMBER SALAD (SESAME SOY DRESSING)
AVOCADO ZUCCHINI SALAD
CREAMY ROASTED AUBERGINE
CRISPY KUMARA CAKES
CUCUMBER AVOCADO GAZPACHO SHOOTERS + A YUMMLY TUTORIAL
EASY GARLICKY STEAMED GREEN BEANS
POTATO GALETTE: A GLUTEN FREE, VEGAN, 3 INGREDIENT DISH
---
SNACKS
ZUCCHINI CHIPS – CHEESY/BBQ/SALT & VINEGAR
ALMOND JOY ALMOND BUTTER
EASY ROASTED CAYENNE CHICKPEAS
FIG & NUT ENERGY BITES
CHOCOLATE CHIP COOKIE DOUGH TRUFFLES
---
TREATS
AVOCADO BANANA CHOCOLATE PUDDING
4 INGREDIENT VEGAN BOUNTY BARS
EASY VEGAN RED WINE FILLED CHOCOLATES
VANILLA ALMOND BALLS
DARK CHOCOLATE SEA-SALT POPCORN
PISTACHIO CHOCOLATE BANANA SUSHI
STRAWBERRY ICE CREAM CAKE
EASY WALNUT TRUFFLES
EASY CHOCOLATE PISTACHIO DATE CARAMELS
RAW VEGAN CHOCOLATE CAKE
RAW COCONUT BLUEBERRY LEMON BARS
[optin-cat id=15612]
Big round of applause for all those amazing bloggers, who helped us put this round up together. Keep creating awesome recipes and changing lives 🙂
With Gratitude,